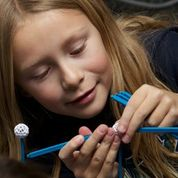 Growing multidimensional learners.

At Zometool Education, our mission is to use innovative curriculum and instruction as medium for cultivating a lifelong passion for creating and "thinking outside the box;" for asking questions and problem-solving; and for "seeing" the world and its patterns, its connections, and its possibilitites in scholars of all ages.
Whether orchestrating learning (or play!) in classrooms, in after-school programs, in homeschooling programs, in university settings, or in informal settings, we offer the following two types of resources to support your work: curriculum modules and professional development.
Curriculum modules.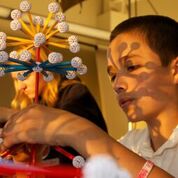 Have you ever wondered how nature "chooses" its shapes? Is it possible to make a cubic bubble? How can Zome both reveal and inspire fascinating relationships between geometry and art? Get ready to explore myriad questions about the natural and built world in our READY-TO-GO curriculum modules, centering on myriad themes and topics.
At Zometool, we know that designing quality curriculum is rewarding, but time-consuming. We continue to collaborate with teachers in developing, implementing, and refining investigative modules that are grounded in evidence-based learning and teaching principles, and include everything from the alignment with national standards and overaching essential questions to colored visuals that show you how to use Zometool successfully with learners to student-ready investigation handouts. We've done the foundational work so that you can spend time doing what you do best - interacting and inspiring learning with students! Click here for more information.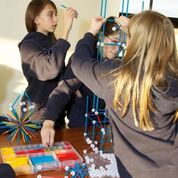 Customized professional development.
We recognize that day-to-day instructional practices of educators have a significant influence on learner growth, achievement, interest, and engagement. Our interactive teaching labs seek to support teachers in integrating this powerful modeling system into conceptually-based and multi-modal instruction with a range of learners in formal and informal learning settings today. We would love to partner with you in supporting and strengthening skillful teaching. Click here to get started.